Lifestyle
St. Patrick's Day is coming and a good way to celebrate it is to arrange a party. It is a nice way to embrace the holiday and fully enjoy yourself with your family and friends. It's the one day when the entire world turns Irish.
1- Set the mood Any themed party deserves tasteful decorations, whether it is for Halloween or St. Patrick's Day. Anything green, with shamrocks, leprechauns, Irish flags or spring related is perfect. Most stores begin carrying holiday items a month in advance but if you are low on time or money, head to Pinterest for a little Do It Yourself inspiration.
Photo courtesy of terrysfabrics
Make it a costume party
Tell your guests to dress up in costume for the party. Whether it is as a full-fledge leprechaun, a living Irish flag or merely in something green any party is livened up with some good costumes and a solid theme. The day only comes once a year after all. Better make it worth remembering.
Photo courtesy of hostelbookers
Hearty Irish breakfast
Surprise your guests by serving traditional Irish breakfast foods. Sausages, bacon, black pudding, white pudding, and eggs provide a nice variety so there is something for everyone.
Don't forget dessert
With a little green food dye you can make any food you'd like look like it was made for St. Patrick's Day. Shamrock decorations are often placed on desserts and cookies. Whole cakes can be dyed green. Cupcakes are decorated with green cream and brownies are filled with green chocolate filling. Sometimes people celebrating the holiday even dye the main courses green. You know what they say, once you go green…
Irish music
Find some Irish music and let it play in the background to give off a feeling of being inside an Irish pub.
See our St. Patrick's Day Essential Playlist for ideas.
Arrange gifts for the children
If you are hosting a family friendly event, make sure you arrange some gifts for the children. A mini-sized plastic cauldron filled with gold chocolate coins or good luck charms should keep them happy.
St. Patrick's day cocktails
Set up another table with pre-filled glasses of different drinks to toast the holiday.
Speaking of toasts - cheers with a classic from Ireland
"Saint Patrick was a gentleman,
Who through strategy and stealth,
Drove all the snakes from Ireland,
Here's a toasting to his health.
But not too many toastings
Lest you lose yourself and then
Forget the good Saint Patrick
And see all those snakes again.
Beannachtam na Feile Padraig!"
Play games
You could play the Irish catchphrase shot game where you put on classic Irish movies and every time you hear an Irish catchphrase you take a shot. Or you could do St. Patrick says (like Simon says) and every time someone does something without the leader saying "St. Patrick says" they must take a shot. Other games you could do include Irish poker, Blarney's beer pong, Shot potato and Irish kisses.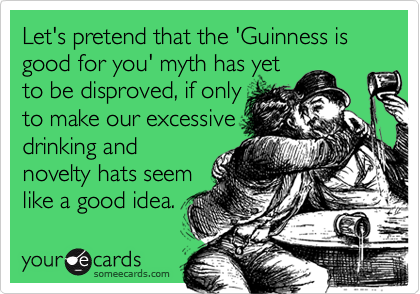 Finish off the evening with Irish coffee
When the evening is going towards its end and the guests are about to return home you should all end the evening with a nice cup of Irish coffee. It'll be a lovely ending to a fine day of festivities.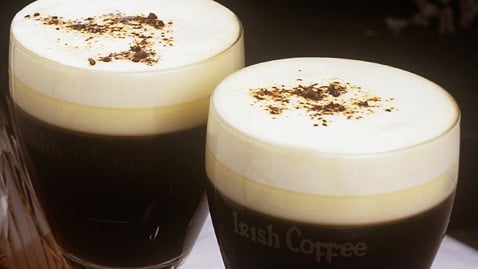 Enjoy your St. Patrick's Day party!