There are so many different types of fashion blogs around, but it can be hard to find those catering to alternative styles. Fear not, you no longer have to spend hours looking for a fashion blog that covers several subcultures and has a strong following. Here are 29 of my favorite alternative fashion blogs in no particular order:
Full of velvet and spandex, Olivia's style will give you flashbacks to the 80's and 90's. Black is definitely her preferred hue, but what makes her style so amazing is her ability to add in different textures. This beauty writes in a way that makes you feel like you have known her for years.
A mix of zen and Zeppelin, this is a blog where you learn about fashion trends AND your chakra. Elisa infuses her socially conscious ideals into each and every post. Special categories such as Vegan Fashion and Spirituality cast a fresh perspective on alternative fashion.   
Formally "Sea of Ghosts", this entire blog is truly a work of art. Alicia Hannah Naomi showcases her minimalistic style through handmade pieces of jewelry that compliment any outfit. All of her featured pieces are made from organic materials, and she has a knack for capturing the raw beauty of objects that might otherwise be considered past their prime.
Those that have an eye for the dramatic will love the Courtesan Macabre because it is centered around theatrical fashion. No, I'm not referring to your costume from your high-school play. You will see visual anomalies like taxidermy Victorian gowns, and creative designers such as Alexander McQueen featured in this blog.
This blog has actually been around since 2003, but you may have known it back when it was "The Fashionate Traveller". Luckily, the blog still chronicles the traveling adventures of this former fashion director and nightlife lover.
If this blog could be summed up in a quote, it would be "Happy girls are the prettiest." Messages of self-love and positivity exude from all of Gala's posts about her transformative journey. Her fashion sense is all about vivid colors, bold prints, and the brighter side of alternative fashion.
Adrienne Rozzi classifies herself as a solitary eclectic witch, and you will find a myriad of interesting witchcraft inspired images on her blog. Magic and fashion collide in the best way possible, along with a few musical inspirations and historical artifacts.
One of the few alternative blogs that puts a great focus on metal, this blog is extremely positive. You get Metalhead 101 and a chance to see how Steff creates her own metal influenced looks.
"Forever changing in cut, never color" is the motto behind this 'black is best' fashion blog.  This blog has been around for over 10 years and features chic, editorial photography pieces. With a heavy high-fashion influence, the styles featured in Dirty Flaws are very wearable and will appeal to those with a subtler but still edgy fashion sense.
You probably already guessed it, but Amii is obsessed with scarlet lips, hair, you name it. She has found a way to incorporate this love into her own personal fashion sense, and it works beautifully. You will also find great make-up tips here as well.
The name TwistedLamb alone gives you a peek into the surreal oddity that is this blog. A lover of everything avant-garde, Mary Lee features a slew of her own editorial fashion creations that put a dark spin on alternative culture. The almost whimsical nature of her fashion sense is what draws in both her celebrity clients and readers.
Another longtime favorite that you may have heard of, Renee Ruin covers both music and fashion. I can find my style inspiration and then get dressed listening to the music she posts on her blog (I LOVE Ghostnoise!). This is a good place to go to see all types of dark styles.
Karolina is a game designer by day, and Goth fashion inspiration by night. Keeping up with her ever-changing hair colors is almost as fun as learning about her fashion sense. Also a make-up addict, you can checkout this blog to find out what products to use before going out.  
A love of 80's Goth, darkwave, and deathrock can be seen in the styling choices made by fashion blogger Susanna. One of the strong points of Desperate Hell is that all of the looks are wearable, making it easy to get inspiration from items you might already have in your closet.
You will find some seriously strange but amazingly beautiful things on Fiona's blog. Her medical background influences a lot of the interesting content she writes about, like crystalline taxidermy (say what?). She also has a pair of alien botany leggings that fit her personal style to the tee.
How can you not love a girl that likes wolves and whiskey? But seriously, Jamie is a wanderlust-fueled machine that embraces all aspects of alternative culture. I can relate to her love of more basic black clothing but with interesting shapes and cool accessories.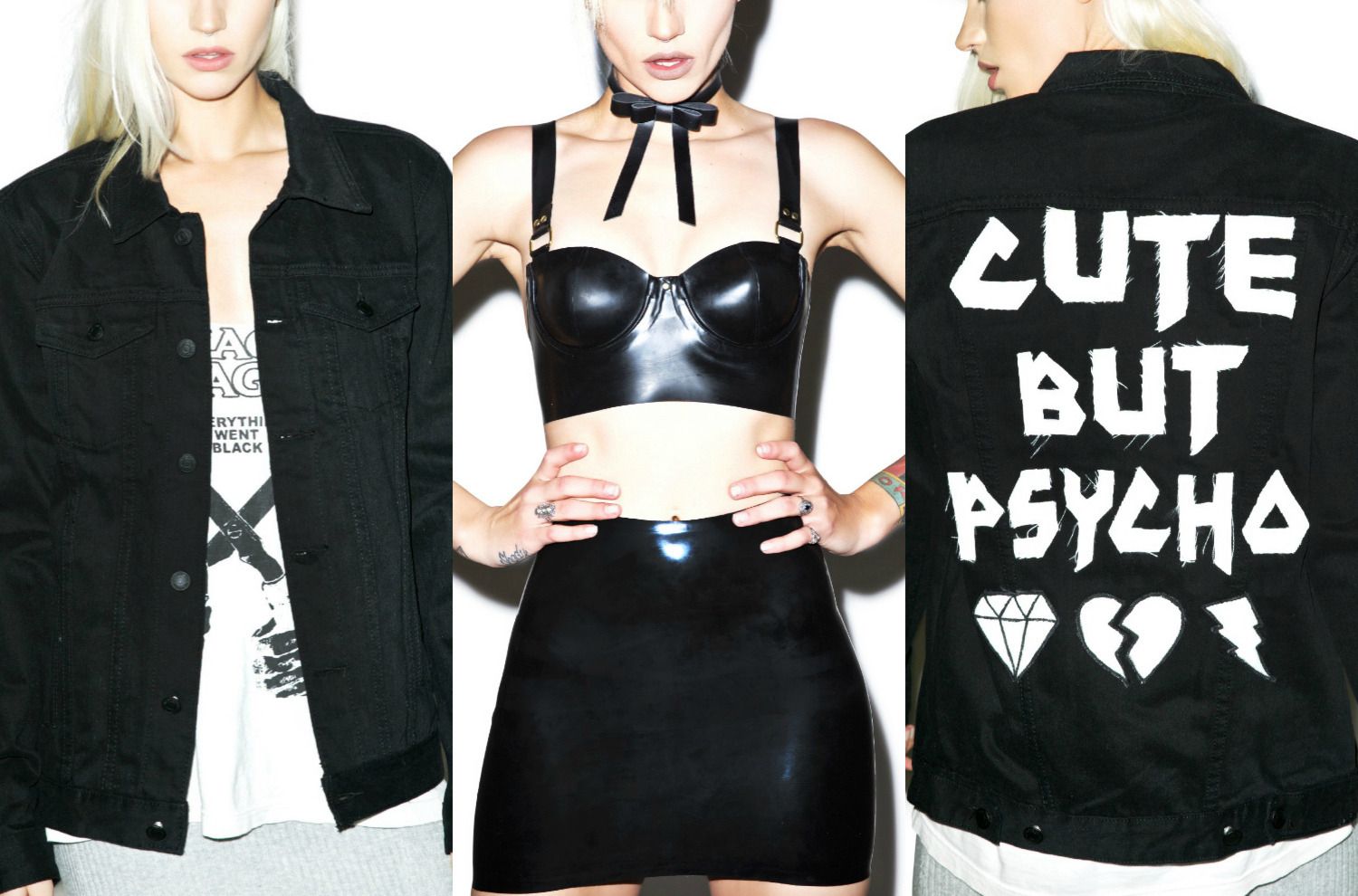 What makes me a fan of Meagan is that she is so relatable. Tatted and downright adorable, she is a Goth gal with a knack for finding hidden gems while thrifting. Though she loves the 80's, I also see a lot of 40's and 50's style influences in her looks too.
The evolution of the writer affectionately known as 'Sary' has been a treat to follow. Once primarily focused on alternative subcultures, the blog has turned into her personal style diary. Summed up, Sary gravitates toward Goth influenced styles with a few punk inspired pieces thrown in.
Can you feel that island breeze? No? Okay well reading this blog will seriously make you feel like you are on a fashion-fueled island adventure. Though Naelle prides herself on what she calls a basic black wardrobe, she adds plenty pops of color whether it is with her hair or body jewelry.
Despite what the name might have you think, this blog is all about positivity and living life to its fullest. With dark clothes and a bright red lips, readers can now see what is inspiring Katie since her move to NYC. She actually does not consider herself a fashion blogger (gasp!) but it is hard to NOT fall in love with her personal style.
Zoe is quite literally the life of the party. She blogs about the latest alternative fashion trends and is also a well-known DJ! You will see lots of black and neutral pieces here, with a grunge type feel.
La Carmina is an authority when it comes to gothic fashion. She has an entire section on her blog full of beautiful outfit photos from magazine shoots over the years. Even as a producer, host, and world traveler, her Harajuku-goth style is what keeps us reading more.   
The blog I look forward to every Wednesday and Saturday. Mary Rose posts about any and everything Goth related- meaning fashion, music, décor, and even etiquette (who knew?). 
Here's another example of a writing-centric blog that sort of turned into an accidental fashion blog. Peet has everything from DIY tips to random quotes, but her gorgeous photography and outfits of the day are hard to ignore.
I love the "for the grown-up Goth" message behind this blog. Its true, people typically think of a younger demographic when envisioning Goth culture. But here you will find a more mature Goth fashion presence, full of Dolce & Gabbana and trends straight from the runway.
Irati has been blogging for just over two years, but already has a huge following. She covers tons of alternative subcultures in her posts, but there is definitely a large Mod influence when it comes to her personal wardrobe.
Ellone is one to watch as she builds up her alternative fashion fan base. What makes her a rising star is her impeccable dark style and the poetic posts she pairs them with. The photography featured on her site is intriguing, full of the dark imagery that inspires her style. 
Shauna Haider's clean and sophisticated fashion sense is no surprise considering her graphic design roots. Obsessed with aesthetics, Haider somehow manages to look completely put together but still edgy and unbothered by trends.
A metal enthusiast with a grunge style, this list would not be complete without mention of Amy Valentine. You can follow Amy and her signature pink hair all throughout London, while getting details on her look of the day.
Sara Luxe has mastered the ability to mix high and low price-points and still maintain her rocker chic look. Her blog gives you a peek into her world as a stylist, but her Instagram gives you a full look into her daily fashion choices.
Stacey Black is a designer but her blog really gives you more insight on her personal alternative style. Whimsical elements like unicorn horns and black butterfly headbands give her look a dark Alice in Wonderland type of vibe. Random tidbit- she absolutely loves latex and you would be amazed by how she styles it.
Everything about Rags of Love is unique, including its author Belphoebe. You will find her wearing something comfortably quirky, probably in bright colors with a print mixed in somewhere.  Her fashion sense is on point, and actually letting readers in on her day-to-day happenings is one of the blogs best features.
Which subculture interests you most? Do you follow any alternative blogs that should be added to this list?