Camden Market is one of the most vibrant and iconic locations in London. It is a popular tourist attraction, and a hive of activity for locals and visitors alike. In this article, we will take a closer look at this unique and bustling market and explore its rich history, its vibrant present, and its promising future.
When you think of London, and you think of the alternative lifestyle, the first place that springs to mind is Camden or more precisely, Camden Market.
Nowadays, it's mainly known for the Stables Market in addition to a host of tourist attractions and while there are still strong remnants of its alternative roots firmly embedded into its stalls, lanes and stands, it was once a beautifully raw melting pot of unappreciated subcultures and glorious misfits. And frankly, it deserves to be celebrated.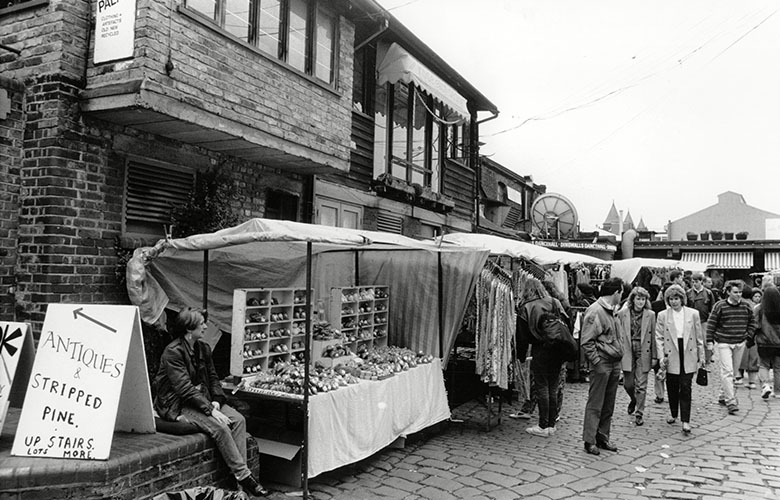 A brief history of Camden Market 
Opened in 1974, Camden Market started with just 16 stalls. So, what began as a modest arts and crafts fair at the back of Dingwalls open on Sundays only, quickly flourished into one of London's biggest and most revered markets. 
As more Londoners and thrill seekers from further afield started flocking to Camden for the pubs, the community and of course, the music, the market flourished too - and now there are literally hundreds of stalls spread over a number of different areas.
Winding back to the 19th century, the entire area, from Camden Lock right the way to the Roundhouse, was an industrial site of distilleries and warehouses all existing to produce world-renowned gin. Although change came and inevitably put an end to Camden's gin-making heritage, we feel that the market's growth and artisanal ambition was driven by its boozy industrial roots.
Things you probably didn't know about Camden Market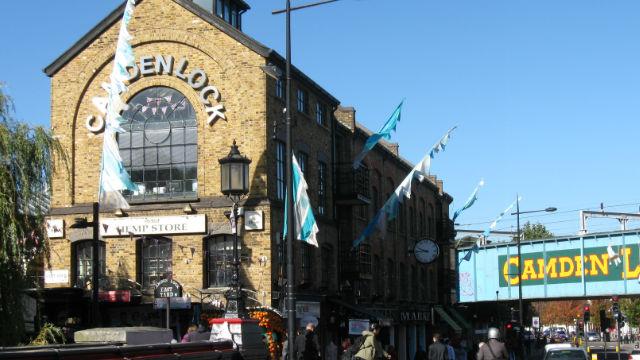 To understand Camden Market to its full potential it pays to know the facts. And these things you probably didn't know about Camden Lock Market will steer you in the right direction:
The first food stall in Camden Market was opened in 1974 by Olympic sprinter June Foulds. It was affectionately named the 'The Stall'.
Legendary performing arts venue, The Roundhouse, was first built in 1847 as a working roundhouse for steam engine locomotives. As they had no way to turn around unassisted, the Roundhouse's turntable would spin the trains so they could go back in the opposite direction. After becoming disused, it was converted into a concert hall in the 1960s.
At present, Camden Market has been ranked as London's fourth-biggest attraction with around 100,000 people visiting the stalls and shops every weekend.
The beloved Stables Market was once the Pickfords Horse Stables in addition to a horse hospital that looked after the animals that pulled Pickfords vans.
Several historic writers lived in the Camden Market area, including George Orwell, Mary Shelley, and Charles Dickens.
Camden Market: Behind the music
Now, over the years, Camden Market has been home to the punks, the mods, the rockers, the new romantics, the cyber ravers, the goths, the Brit-poppers, rastas, garage revivalists, and more. But, this scintillating musical heritage all started with one legendary Camden Market-based venue, the mighty Dingwalls.
In 1973, Dingwalls Dance Hall officially opened to the public. As part of an initiative to turn what was a barren industrial area into a thriving create space for local artists, business partners John Armit and Tony Mackintosh approached a local developer with a big idea.
What's the big idea, you say? Well, it was to turn what was essentially an old, slightly rotting packing warehouse into the Dingwalls Dance Hall and breathe new life into the old dog. It worked, of course.
At the time, Dingwalls had the longest bar in London, and it quickly became the place to showcase the best in up and coming alternative musical talent.
With a 2am license, a giraffe's neck of a bar and a roster of the city's most exciting musical talent treading the boards almost every night, it wasn't long before Dingwalls became the regular haunt of a host of well-known characters, including Charlie Watts, Dave Gilmore, George Melly and David Hockney.
Over the years, Dingwalls hosted acts including The Sex Pistols, The Ramones, Blondie (launching the singer's debut album), The Stranglers, Noel Gallagher, The Strokes and Mumford and Sons, to name a few.
This incredible venue also saw a headline winning punch-up between members of The Stranglers, The Clash and The Sex Pistols - which was probably the tip of the iceberg - oh if those walls could talk.
The point is, Dingwalls was and in many ways still is the hub of Camden's bustling music scene, inspiring many other local venues to follow in its footsteps over the decades.
Camden Market in pictures
Now you've soaked all of this Camden Market-based information in and got underneath its skin a little more, we're going show you a selection of pictures so you can visualise it in all its glory:
The Smiths treading the boards at Dingwalls Dance Hall, circa 1980.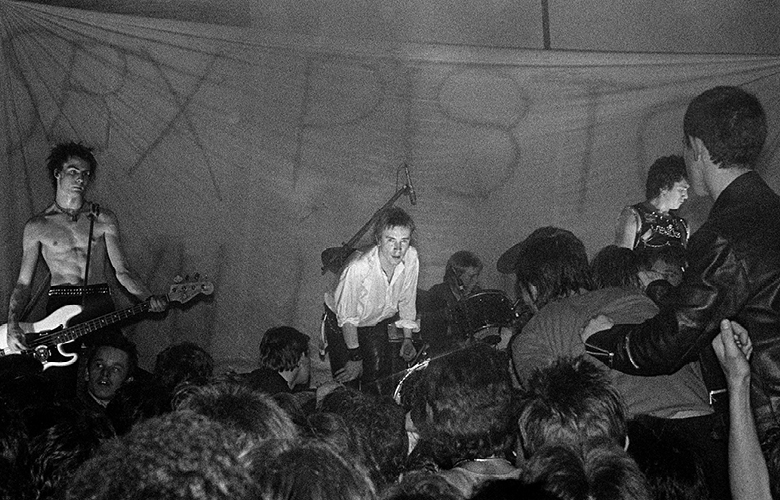 The Sex Pistols playing in the Camden area at the height of the original punk movement.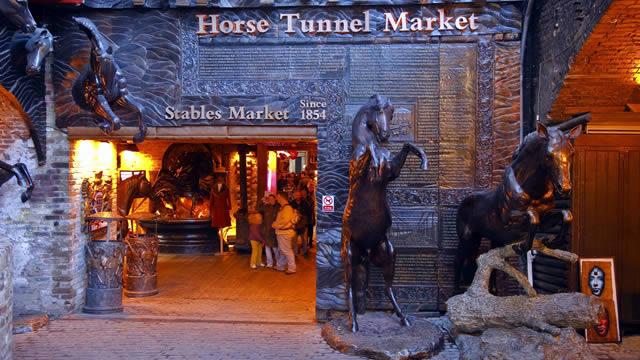 Camden Stables market in its most modern form.
Punks hanging out by The World's End in Camden, circa 90.
Scooter seats at one of Camden Market's three main food courts.
As you can see, Camden Market is a pretty special place and if you crave the alternative in any way, shape or form, you need to pay it a visit and soak in its electrifying atmosphere.
If you're planning a trip to Camden and want to look the part, take a look at our many fashion offerings, all arranged by subculture - we have an alternative fashion style for every occasion. And for a little of gothic inspiration, read our guide to awesome goth literary characters.
Suggested Posts:
7 Coolest Alternative Street Markets In The World