The dawning of a New Year is upon us and as we gear up for 2020, we'd like to keep the subculture flag flying high by looking at four alternative bands and artists that are set to make a colossal musical mark over the next 12 months.
Subcultures are the place where alternative fashion styles and seminal music meet, and these four budding leftfield icons are not only expected to do big things this year in terms of their sonic abilities, but their striking takes on existing subcultural aesthetics will offer heaps of wardrobe-based inspiration to people - like yourself - that are wonderfully unique and off-beat.
Without further ado, let's explore these four alternative acts that you need to listen out for in 2020...
The Black Angels
Fashion style: Vintage & retro
"Not a ghost bloodied country, all covered with sleep, where the black angel did weep." - Death Song
The Black Angels are by no means new to the alternative music scene, but this year the band experienced somewhat of a renaissance through touring their fifth and arguably most experimental studio album to date, Death Song.
With a deep, hard-edged psychedelic sound peppered with subtle melodic overtones, this band are a colossus live and having ended this year on a high, we expect great things from The Black Angels over the next 52 weeks.
With a fresh string of shows and new material on the horizon, this is one sonic explosion you don't want to miss in 2020.
Nine Covens
"I was close by the sand, near to the shore of the sea..." - At the Ocean's Strand
Fashion style: Heavy metal & rock
As pivotal players in the UK's thriving and ferocious Black Metal scene, Nine Covens is a band on the rise.
After just one exposure to the band's wall of scintillatingly-arranged wall of noise, your New Year will be punched into gear, and if you're looking to attend a gig with more energy than a million Duracell bunnies on Jager-Meister, Nine Covens are the band to go and see in 2020.
With rumours of new music coming and a growing international fanbase, 2020 promises to be the year of Nine Covens.
Azar Swan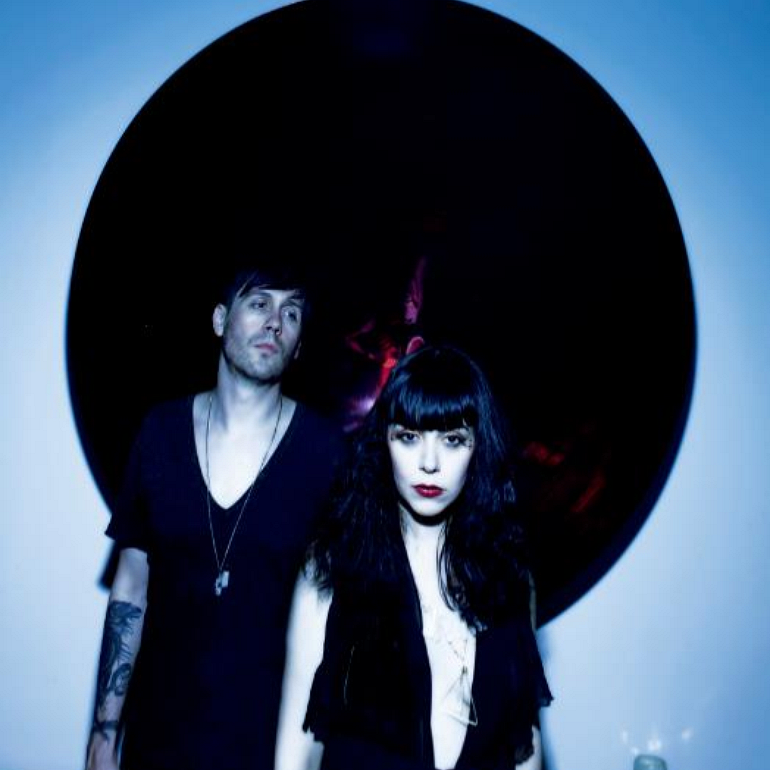 I feel something strange in my bones, a thumb-plated sign..." - We Hunger
Fashion style: Emo & scene
The contemporary neo-gothic answer to Kate Bush, Azar Swan bridges the gap between heavy electro-pop, dark storytelling and classic goth seamlessly - and she is as charismatic as they come.
Based in Brooklyn, Azar Swan was once in a band named Religious to Damn, but after their split, she decided to partner up (musically) with fellow bandmate, Joshua Strawn, and experiment with electro-inspired, gothic arrangements.
Having produced a host of new material driven the artist's haunting, unmistakable voice, Azar Swan has made a maximum impact this year, and in 2020, she is set to expand on that in all her goth-inspired glory.
 
Clan of Xymox
"Words won't occur to me, at half-past three, my reason dies, why couldn't you make that choice?" - A Million Things
Fashion style: Gothic
Okay, The Clan of Xymox may have formed in 1981, which obviously means that they're not new, but this hypnotic Dutch outfit is back on form - a comeback that was catalysed by the release of their long-awaited 2017 studio album, Days of Black.
With their anthemic brand of sinister, kaleidoscopic synth-driven gothic rock, the Clan of Xymox have endured decades in the alternative music biz and with a modernized, cutting-edge collection of recently formed songs as well as new tours, gigs and sounds in the making, failing to listen out for this band in 2020 would be nothing short of subcultural sacrilege.
These four acts are all striking different yet equally incredible in their own way, helping to keep the alternative scene interesting, exciting, meaningful and relevant right across the board. Whatever you're doing or whoever you are, we hope that you have an epic New Year - and do make sure you listen to these musical geniuses in 2020.
Have any hot tips of your own? Share them with us here by leaving a comment.